JPHSA News
---
September 2020
JeffCare Zaps COVID-19 In Its Tracks
Due to the COVID-19 pandemic, disinfection has never been more vital to healthcare providers. JeffCare has found an innovative solution to safely and simply continue providing services: the UVDI-360 Room Sanitizer.
Harnessing the power of light, the UVDI-360 radiates germicidal UV-C rays to kill more than 35 pathogens, including coronavirus. This sleek, mobile tower beams a pillar of bright blue light to disinfect entire rooms—including floors, beds, counters, cabinets, toilets and other high-touch surfaces—in just 5-10 minutes.
"We've been wanting to move towards UV light disinfection for a while now to augment our cleaning regimen," said Julie Shaw, JeffCare Division Director. "With COVID-19 concerns, there's no better time than the present to move into the future."
---
August 2020
JeffCare Kicks Off COVID-19 Testing
JeffCare launched its COVID-19 testing last week thanks to the efforts of many hard-working staff members. JeffCare will continue to provide this essential service to Jefferson Parish residents through at least September. All community members one year and older are welcome—first come, first served (while supplies last) with no appointment necessary.
"We want everyone to have access to COVID-19 testing, regardless of their income or health insurance coverage," said Julie Shaw, JeffCare Division Director. "We've got the tests and the tent. We've got the dedicated and compassionate staff. Now we just need to yell it from the rooftops so people know we're here!"
Help spread the word to individuals served and help prevent the spread of the virus in Jefferson Parish. An informational flyer with testing dates and times can be found here.
Work Continues on JeffCare Expansion at JPHSA Metairie Facility
The renovation of the second floor of JPHSA's Metairie facility is humming along. When the demolition going got tough, the Facility Asset & Risk Management construction team recently got a surprise assist from Julie Shaw. The progress is exciting, and JeffCare staff members are looking forward to the new Call Logistics Center and office space. 
JPHSA Welcomes New Board Member
Jefferson Parish Human Services Authority welcomes Robin P. Brooks, D.B.H., L.M.S.W., to its Board of Directors. Dr. Brooks, a resident of Gretna, has decades of experience as a social worker and behavioral health specialist. She is currently employed as a social worker at Children's Hospital.
With a special interest and expertise in children's behavioral health, Dr. Brooks will make a great addition to JPHSA's Board. She is looking forward to joining other passionate professionals in serving the Jefferson Parish community.
---
July 2020
JPHSA Welcomes New Board Member
Jefferson Parish Human Services Authority welcomes Alan B. Carroll, CPA, CFE, to its Board of Directors. He will serve in the Developmental Disabilities, Advocacy position. Carroll, a resident of Metairie, has decades of experience in accounting. He is currently employed as a controller with Crystal Clear Imaging in Harahan.
Carroll is looking forward to serving on JPHSA's Board. His passion for advocacy for persons with developmental disabilities grew following Hurricane Katrina. Though his adult son with autism now lives in Metairie, for a time following Katrina, his son was a resident of the Hammond Developmental Center. That was when Carroll noted many individuals who didn't have families coming to visit them on a regular basis and the importance of advocacy.
"I felt like these people needed somebody to be their voice, speak up for them, look out for them," Carroll reflected. "So when this opportunity came up, I thought this would be a good avenue to do that and get more involved in the community."
---
May 2020
NACHC Celebrates Men's Health Month With JeffCare Nurse Profile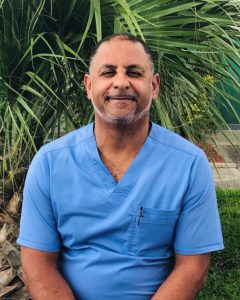 JeffCare Opioid Detox & Recovery nurse, Mervin Guillory, shares his thoughts on leading with care for Men's Health Month with the National Association of Community Health Centers. Guillory's perspective is featured in "The Road to Recovery: Understanding Patients Mind, Body, and Soul."
---
February 2020
JPHSA Announces New Board Vice Chairperson
Jefferson Parish Human Services Authority welcomes Shawnta Gardener-Taylor, M.S., LPC, as the new Vice Chairperson for the JPHSA Board of Directors. Gardener-Taylor, a resident of Harvey, has over a decade of experience in social services for youth and adolescents. She is currently employed as a Licensed Mental Health Professional with Family Care. She has served on the JPHSA Board in the Mental Health Professional position since February of 2019.
"I'm looking forward to this new journey with JPHSA," Gardner-Taylor said. "JPHSA has so many exciting things happening in the new year. I look forward to being a part of it in this new role."
---
October 2019
Catch JeffCare in Jefferson Parish Parks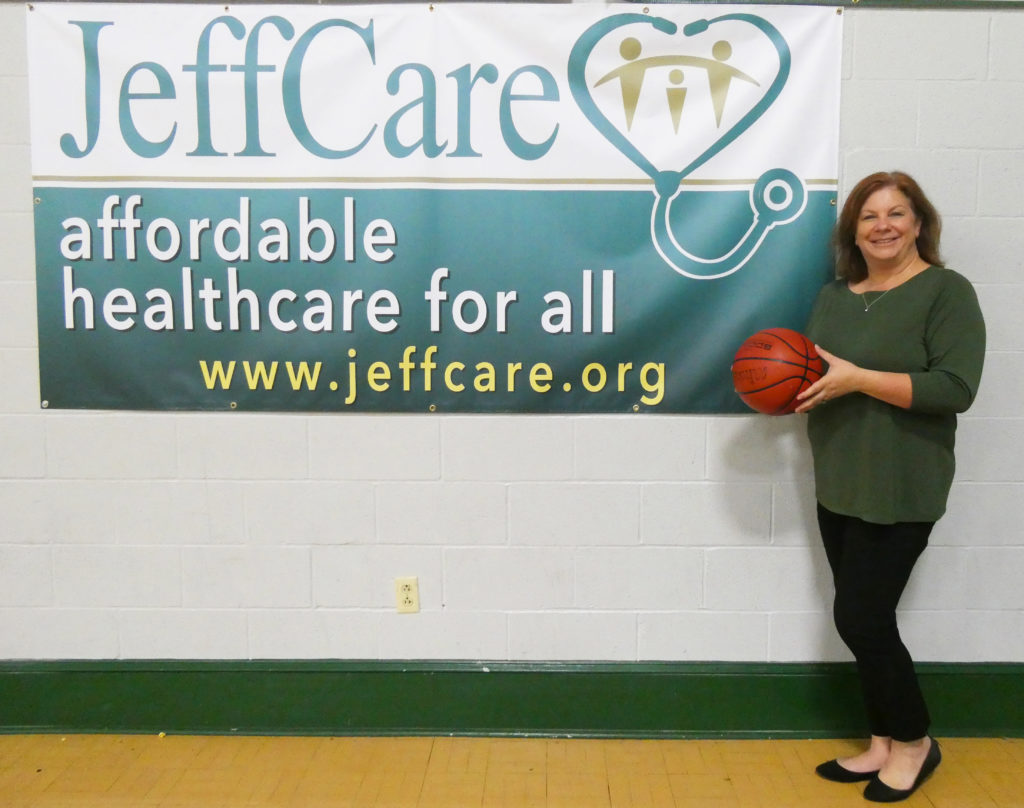 JeffCare Division Director Julie Shaw shows off banner at the Lakeshore gym.
In an effort to spread the word about JeffCare services to families across the parish, JeffCare is now a proud sponsor of the Jefferson Parish Parks & Recreation Department. This sponsorship not only supports JeffCare's mission by endorsing healthy, active lifestyles for children and families, it also helps JeffCare reach community members who could benefit from the health centers. Make sure to look out for JeffCare's banner when you visit any of the following parks: Pontiff, Miley, Lakeshore, Girard, and Little Farms on the East Bank and Kings Grant, Oakdale, PARD, Terrytown, and Woodmere on the West Bank.
JPHSA's 30th Anniversary Time Capsule Goes Underground
As part of its 30th anniversary, JPHSA has buried a time capsule containing JPHSA artifacts and staff memories to commemorate the agency's many accomplishments. The time capsule is scheduled to be unearthed by future JPHSA staff in 20 years and is buried in the lawn of JPHSA's Elmwood facility.
JPHSA Rolls Out Med Drop Boxes to Keep Jefferson Parish Safe
Rosanna Dichiro, BHCS Division Director, joined Harahan Police Chief Tim Walker at the Harahan City Council meeting on Thursday, Sept. 19 to spotlight the medication disposal drop box located in the Harahan Police Department. It's one of three new drop boxes JPHSA installed throughout the parish. Chief Walker touted the Harahan drop box's 24/7 availability and urged all residents to take advantage of the unit. Dichiro discussed the goal of the initiative with the crowd. The drop boxes were made possible with grants from Substance Abuse and Mental Health Services Administration (SAMHSA), support from the Jefferson Parish Sheriff's Office (JPSO), and the cooperation of many community partners. More information is available here.
---
August 2019 
JPHSA Helps Families Prepare for Back-to-School Season
Pictured from left to right are Keiasha Gipson (DDCS), Rhonda Wilson (DDCS), Andrea Thames (BHCS), Karyan Hollingshed (DDCS), and Jill Estes (BHCS).
In an effort to find inventive ways to help children and families in Jefferson Parish, JPHSA has launched a new back-to-school initiative. With this project, all recipients of the Flexible Family Fund program served by Developmental Disabilities Community Services (DDCS) and Behavioral Health Community Services (BHCS) are receiving backpacks filled with essential school supplies. Over 300 backpacks are on their way to families.
While providing financial assistance is at the core of the Flexible Family Fund program, DDCS Division Director Nicole Sullivan-Green is most excited about helping to reduce the stress many families experience during the onset of a new school year.
"Doing this project is helping families not only financially, but we have also given them time back because we have done some of the work for them," Sullivan-Green said. "Now families have more time to devote to other priorities."
The hard work of staff members from BHCS, DDCS, Facility Asset & Risk Management (FARM), and Finance Operations helped make this project a success. By providing items such as new backpacks, highlighters, crayons and notebooks, JPHSA is lightening the back-to-school burden and helping children and their families have a brighter school year.
---
Jan 2019
JPHSA Celebrates 30 Years of Service to the Community
Staff and members of JPHSA's Board of Directors were on hand to help commemorate JPHSA's three decades of service to the Jefferson Parish community at a recent all-staff meeting. In 1989, the original legislation creating JPHSA was enacted and the first Board of Directors was appointed. Since then, JPHSA has been driven by a mission to help individuals and families in Jefferson Parish affected by mental illness, addictive disorders, and developmental disabilities to live full, healthy, independent and productive lives to the greatest extent possible for available resources. In recent years, JPHSA has also integrated primary care into clinical services through a Federally Qualified Health Center with sites in East and West Jefferson.
---
July 2018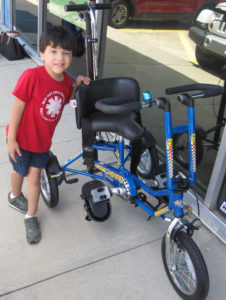 JPHSA Makes Adaptive Bike Dreams a Reality for Children With Special Needs
JPHSA recently partnered with the McClindon Family Foundation to donate custom adaptive bikes to children with special needs. JPHSA's Developmental Disabilities Community Services Division funded bikes for six DD eligible children living in Jefferson Parish.
Strength, confidence, and inclusion are a few of the goals the foundation and JPHSA hope to help children achieve with these bicycles. Though cycling is beneficial to children's physical and social needs, adaptive bikes can be prohibitively expensive since they have to be tailor-made for each child's specific strengths and weaknesses. When children get to take their own adaptive bikes home, opportunities for exercise and building muscle strength continue long after formal physical therapy ends. Parents of bike recipients have noted that the bikes increased their children's coordination and confidence as well as improved their social skills and sleep routines.
Since the McClindon Family Foundation donated its first adaptive bike to a boy with hydrocephalus in 2008, the group has given away over 200 bikes in 27 states. The bikes donated in partnership with JPHSA were sturdy tricycles with a wide wheelbase and low center of gravity to improve stability and safety. Behind the seat, the bikes sported an extra steering column outfitted with a handbrake so caregivers can walk behind the bike and help a child navigate. Pedals were also a custom affair, featuring toe clips and, at times, pedal blocks to help the children ride more easily.
---
May 2018
Dr. DiChiro Addresses Problem Gambling in Jefferson Parish
Rosanna DiChiro, Psy.D., Division Director of Behavioral Health Community Services at Jefferson Parish Human Services Authority (JPHSA), delivered an engaging welcome for the Problem Gambling & Louisiana Resources Partnership Meeting on May 9 at the Jefferson Parish Library in Metairie. In her introduction, DiChiro touched on the changing face of problem gambling in Jefferson Parish and how smart phones are fast becoming the new gambling device ensnaring a new generation.
"The ages range from 13 to 65. Thirteen. Where do individuals that age gamble?" DiChiro asked, reaching into her pocket to produce a smart phone and holding it aloft. "Keep in mind this is possibly about to become where a lot of people gamble. Sports betting…football season is coming up. Everyone likes to talk about football as much as the next guy, but fantasy football takes it to a whole different level."
JPHSA staff members and invited community members attended this daylong seminar prepared by the Louisiana Association on Compulsive Gambling. The program presented topics related to problem gambling in Louisiana and the types of free counseling services available locally and across the state.
Centralized Care Coordination at JPHSA Continues to Make Strides With Strategic Grant in Health
In October 2016, Baptist Community Ministries (BCM) announced funding for JPHSA to improve and further develop a Centralized Care Coordination (CCC) model. Since that time, JPHSA has been busy putting those resources to work. A detailed update on this project's great progress can be found in the BCM 2017 Annual Report here.
---
January 2018
Jefferson Parish Human Services Authority Receives Funds from U.S. Dept. of Justice to Increase Access to Mental Health Services
The U.S. Department of Justice's Office of Justice Programs recently awarded Jefferson Parish Human Services Authority (JPHSA) $298,851 in funding through its Justice and Mental Health Collaboration Program (JMHCP). JMHCP supports innovative cross-system collaboration for individuals with mental illnesses or co-occurring mental health and substance abuse disorders who come into contact with the justice system.
JPHSA intends to use this funding for its Mental Health Services for Arrestees Project to collaborate with Jefferson Parish Sheriff's Office (JPSO) and the 24th Judicial District Court to reduce the number of people with mental health and/or mental health-substance abuse disorders in the prison system, reduce the number of people with these problems recidivating back to Jefferson Parish Correctional Center, and increase the capability to evaluate the system.
"It's a repeating cycle," said Dr. Rosanna DiChiro, Director of Behavioral Health Community Services at JPHSA. "If you don't try to intervene somewhere, people with mental health problems don't get the treatment they need. This leads to rearrests, and the situation just gets worse."
JMHCP seeks to increase public safety by facilitating collaboration among the criminal justice and mental health and substance abuse treatment systems to increase access to mental health and other treatment services for individuals with mental illnesses or co-occurring mental health and substance abuse disorders. The program encourages early intervention for these multisystem-involved individuals; maximizes diversion opportunities for multisystem-involved individuals with mental illnesses or co-occurring mental and substance abuse disorders; promotes training for justice and treatment professionals; and facilitates communication, collaboration, and the delivery of support services among justice professionals, treatment and related service providers, and governmental partners.
---
November 2017
JPHSA Earns National Recognition for Patient-Centered Care
The National Committee for Quality Assurance (NCQA) announced that JPHSA has received NCQA Patient-Centered Medical Home (PCMH) Recognition for primary care at its JeffCare Health Centers in East Jefferson and West Jefferson. This distinction recognizes JPHSA for using evidence-based, patient-centered processes that focus on highly coordinated care and long-term, participative relationships. Only one in six primary care physicians in America practices in an NCQA-recognized practice, placing JPHSA among an elite group that has demonstrated its commitment to advancing quality in health care. 
NCQA is a private, non-profit organization dedicated to improving health care quality. NCQA accredits and certifies a wide range of health care organizations, and the NCQA Patient-Centered Medical Home is a model of primary care that combines teamwork and information technology to improve care, improve patients' experience of care, and reduce costs. Medical homes foster ongoing partnerships between patients and their personal clinicians. Each patient's care is overseen by clinician-led care teams that coordinate treatment across the health care system. 
To earn recognition, JPHSA demonstrated the ability to meet the program's key elements, embodying characteristics of the medical home. NCQA standards align with the joint principles of the Patient-Centered Medical Home established with the American College of Physicians, the American Academy of Family Physicians, the American Academy of Pediatrics, and the American Osteopathic Association.
---
October 2017
Memorial Magnolia Planted in Honor of Cynthia "Cindy" Scalia
On October 31, a memorial tree was planted to honor Cynthia "Cindy" Scalia during a ceremony sponsored by the Jefferson Parish Developmental Disabilities Regional Advisory Committee (DDRAC) and hosted by JPHSA's Developmental Disabilities Community Services (DDCS). Scalia was a member of DDRAC, which provides input on issues impacting developmental disabilities services and supports, aids in public outreach, and participates in the Office for Citizens with Developmental Disabilities State Advisory Committee. Cindy, an active member of the JPHSA and Jefferson Parish community, was also a 23-time medal winning Special Olympics athlete, musician, and advocate for individuals with developmental disabilities.
Staff members of DDCS and Maintenance and Facilities worked together to make this living tribute a success. The Japanese magnolia can be viewed growing outside the JPHSA Elmwood building at 1500 River Oaks Road West.
---
August 2017
Staff Members Rise to the Challenge
Since JPHSA first opened its doors in 1989, the agency has been generating its fair share of documents. This year staff members have been knee deep in the JPHSA archives completing a major records management project.
"Appropriate records management is a very important task at JPHSA," said Elizabeth Riehl, Director of Compliance & Performance Support. "As a public entity, we are subject to numerous laws and regulations regarding records management, and it is our job to ensure compliance by keeping records accessible but secure."
JPHSA staff members aren't afraid to roll up their sleeves. They are nearing completion of the transfer and reorganization of over 600 boxes of documents and the destruction of over 383 so far. JPHSA wishes to thank key staff for their pluck and perseverance in this undertaking. Aneisha Holmes, Administrative Coordinator in Compliance & Performance Support, has been spearheading this project. Nick Gilbert, Administrative Coordinator in Developmental Disabilities Community Services, has shredded an enormous amount of documents approved for disposal. Many other JPHSA staff members have also devoted their time and efforts.
---
August 2016
JPHSA's Substance Abuse Prevention Program Battles Underage Drinking & Drug Abuse
With one of the most innovative and successful Partnership for Success (PFS) programs in the state, Jefferson Parish Human Services Authority (JPHSA) is widely recognized as a leader in alcohol and substance abuse prevention. JPHSA, as a grantee of PFS, a program developed by the U.S. Substance Abuse and Mental Health Services Administration, seeks to address underage drinking and prescription drug abuse among young people. JPHSA teamed with the Jefferson Sheriff Parish's Office (JPSO) in the past year to achieve these goals.
Substance abuse often begins as early as 10-12 years old. In a recent study, 50.5% of Jefferson Parish sixth graders reported receiving alcohol from home with parental permission. 
"Underage drinking is a community problem that requires a community solution. Our approach is multi-tiered," said Jennifer Phillips, Assistant Director of Behavioral Health Community Services at JPHSA. "We bring the beer goggle drunkenness simulators into the schools and talk to students about early alcohol use and make them aware of its impact on long-term brain function and their relationships. We don't want them to predispose themselves to addiction. And we also are committed to supporting the enforcement angle as well."
Since a recent study found many young people in Jefferson Parish purchase alcohol for themselves in a store alone without a fake ID or adult, teamwork with Jefferson Parish Sheriff's Office (JPSO) played a key role in JPHSA's initiative. Sheriff Newell Normand worked diligently to address the underage drinking problem for years. Over the past year, JPHSA joined JPSO's efforts by supporting alcohol compliance checks. In addition, JPSO, JPHSA, and others promoted updates to the Alcohol Beverage Ordinance that impose stiffer penalties for vendors caught in violation of the law.
JPHSA also conducts the mandatory merchant education courses for businesses cited after compliance checks. These responsible alcohol courses educate staff about the legal and ethical ramifications of selling alcohol to underage patrons. The curriculum emphasizes the science behind the life-altering consequences of alcohol on the brain development of youth.
---
March 2016
JPHSA Receives Funds from U.S. Dept. of Health
Jefferson Parish Human Services Authority (JPHSA) is receiving $325,000 in funding for its JeffCare program from the U.S. Department of Health and Human Services (HHS) to expand access to treatment for opioid addiction. JeffCare intends to use this funding to establish an intensive outpatient detoxification program for opiate addiction at its West Jefferson Health Center. Administered by the HHS Health Resources and Services Administration (HRSA), this award is part of a total $94 million in Affordable Care Act funding to 271 health centers in 45 states, the District of Columbia, and Puerto Rico. Jefferson Parish has a high rate of opioid abuse and has seen a spike in opioid-related overdoses in recent years.